Click Add to Cart to order this product

Legacy 60 Serving Breakfast, Lunch, and Dinner Bucket
Click to enlarge image(s)
60 Serving Breakfast Lunch Dinner Food Storage Bucket Supply by Legacy Premium
Free Shipping on all Legacy Food Orders from Disasternecessities!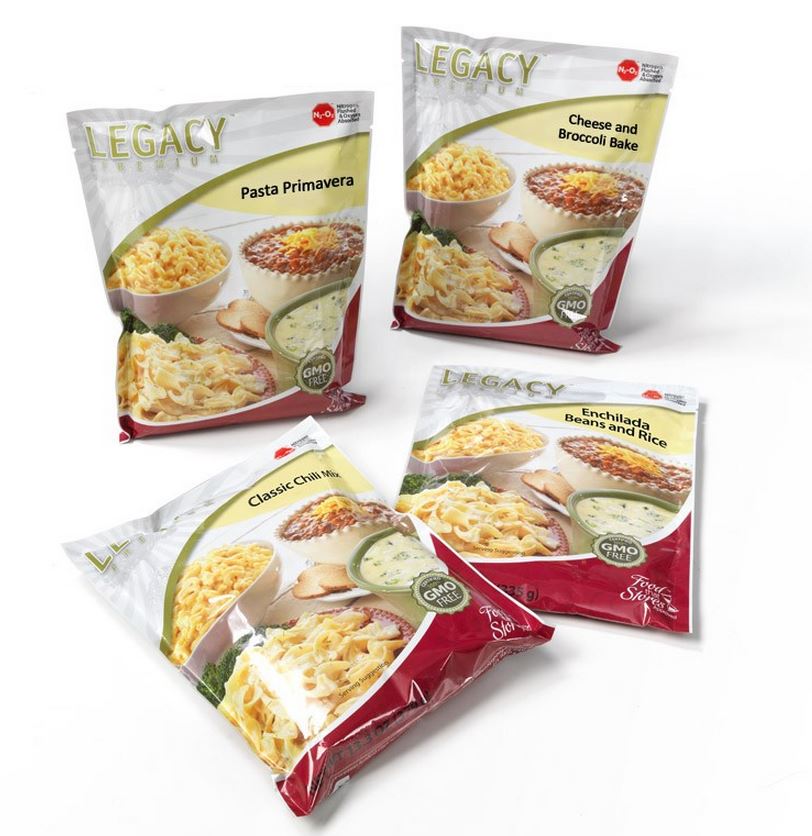 When it comes to providing the best tasting disaster survival earthquake food storage Legacy i
s the best choice for quality, value, and taste. T
his leading survivalist Food Storage Prepper Supply has 60 non-GMO food storage meals; buy 4 different freeze dried breakfast foods and ten different entree options that have been voted BEST TASTING!
Earthquake disaster food storage is kept in easily stored plastic buckets. Our food storage has a 25 year shelf life!
Gmo-free Survivalist Supply of 60 Freeze Dried Gourmet Storage Foods
Make food storage fun and exciting with a gmo-free gourmet survivalist supply by Legacy Premium. Your family will love the different meal options and you will love the added benefits of protein, fiber and vitamins from these freeze dried, certified gmo-free foods. These gourmet meals are great tasting and easy to prepare; just add water to freeze dried storage foods and they are ready to eat. You will also love the amazing value of Legacy's lowest cost per serving and calorie in the survivalist food supply business.
Get 60 gmo-free survivalist meals with this popular freeze dried food supply package and keep your family protected against unforeseen emergencies. Enjoy gourmet storage meals such as Chicken a la King, Pasta Primavera and even Old-fashioned Pancakes. This supply of freeze dried gmo-free meals is lightweight and portable; having gourmet survivalist meals that are simple to prepare while hiking, camping and even backpacking is easy with Legacy Premiumfreeze dried food storage.
Freeze dried/dehydrated, gmo-free gourmet food supply is first sealed in Mylar pouches with an oxygen absorber and nitrogen flush, then re-sealed in BPA-free survivalist buckets for lightweight and portable storage. This delicious and versatile gourmet food supply by Legacy is certified gmo-free and will last on your shelf for twenty-five years or more.
Legacy Food Storage Supply Features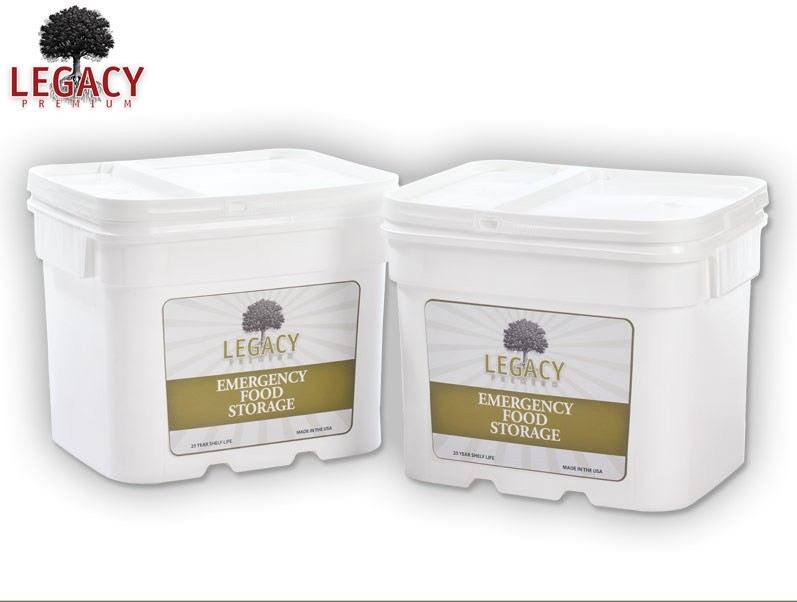 · Stored in easily stackable re-sealable plastic buckets.
· Legacy Emergency Long Term Meals just use water to prepare – Couldn't be Simpler!
· Legacy manufactures our long term food storage in a rigidly maintained environment with strict measures for your security, protection, and safety.
· Legacy Emergency Shelf Life is 25 years if stored correctly in a cool dry place. The cooler the better.
· Our Legacy foods are made right here in the United States of America!
· Our Legacy foods are a good source of fiber and are low in fats and cholesterol.
· We use sea salt, but have low sodium content in our emergency meals
· We have vegetarian friendly meals!
· We don't use MSG, or Trans Fats or HFCS in any of our Legacy Meals

The Legacy 240 Package Supply Specifications

60 Adult Sized Servings
382 Average Calories per Long Term Food Storage Serving
22,920 Calories in Total
$12.22 Cost per day
$4,458.99 Cost per Year
Fifteen Pouches
Weights 18 lbs

We also have Legacy Gluten Free options for Emergency Long Term Food Storage Supplies.


Included In the Legacy 240 Serving Long Term Supply of Emergency Food Storage:
Click on any picture to obtain cook instructions and nutritional information.
Breakfasts
Multi-Grain Cereal
(4 Servings)
Oatmeal with Brown
Sugar
(8 Servings)
Strawberry Creamy
Wheat
(4 Servings)
Old Fashion
Pancake Mix
(4 Servings)
Entrees
Italian Pasta with Marinara
(4 Servings)
Pasta Alfredo
(4 Servings)
Pasta Primavera
(4 Servings)
Enchilada, Beans and Rice
(4 Servings)
Stroganoff
(4 Servings)
Loaded Baked
Potato
(4 Servings)
Hawaiian Style
Sweet 'n' Sour
(4 Servings)
Creamy A La King
(4 Servings)
Cheesy Potato Soup
(8 Servings)
Classic Chili Mix
(8 Servings)
Earthquake – Tornado – Hurricane – Tsunami - Fire – Terror – Flood – Zombie Apocalypse
Are you prepared?